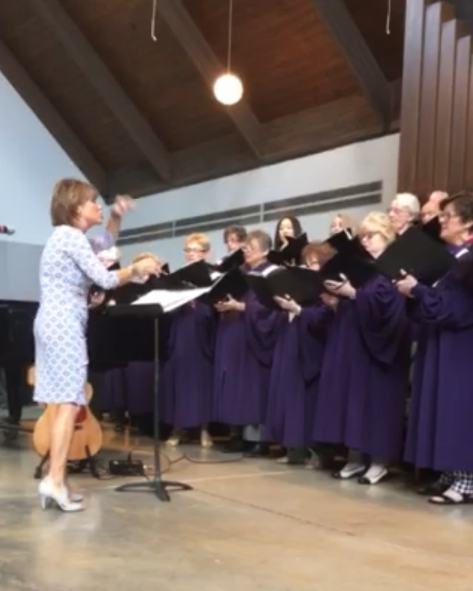 Music and Worship
Northwoods Presbyterian Church has a long history of devotion to music and the arts. Sharing your musical and artistic gifts helps provide a more meaningful worship experience for everyone. Please contact Jennifer Klein Salyer, our Director of Music and Worship, for additional information on any of these groups or to discuss how your artistic gifts might enhance our corporate worship.
Director of Music and Worship
Hallelujah!
Praise God in his holy house of worship, praise him under the open skies; Praise him for his acts of power, praise him for his magnificent greatness; Praise with a blast on the trumpet, praise by strumming soft strings; Praise him with castanets and dance, praise him with banjo and flute; Praise him with cymbals and a big bass drum, praise him with fiddles and mandolin. Let every living, breathing creature praise God! Hallelujah! (Psalm 150, translation The Message)
Sanctuary Choir
The Sanctuary Choir (high school through adult) rehearses on Wednesdays at 7:00 p.m. in the Choir Room in the Sanctuary building. All who have a desire to sing and serve in leadership at Northwoods are welcome in the Sanctuary Choir. A wide repertoire, from the classics to praise music to spirituals, is explored and celebrated in regular Sunday Worship. Additionally, the Sanctuary Choir prepares special seasonal music throughout the liturgical year.
The Journey Band
The Journey Band leads the congregation in hymns and contemporary songs of praise. Members of The Journey Band are skilled instrumentalists and vocalists, many of whom have professional performance experience. While formal auditions are not required, placement through the Director of Music and Worship is necessary to ensure proper balance and instrumentation. The Journey Band rehearses Sundays at 8:30 a.m.
Sanctuary Ensemble


Consisting of five to eight auditioned adult singers, the Sanctuary Ensemble is a chamber vocal ensemble leading worship through song occasionally throughout the year. Repertoire ranges from Taize-style music to Victorian motets to spirituals. Much of the music is sung a cappella. Contact the Director of Music and Worship for further information.
Instrumentalists
From time to time, special music is offered in worship featuring instrumental talent from within our congregation, whether as a solo, instrumental duet, or accompanying the Sanctuary Choir. Brass, woodwind, percussion and string players certainly enhance worship. Please share your talent with the Director of Music and Worship!
Handbell Choir
The Handbell Choir (high school through adult) plays from time to time in worship throughout the year. Novices, experienced ringers, and all those in between are welcome to be a part of this occasional group. Please contact Jennifer Klein Salyer about joining the Handbell Choir.